[ad_1]
What are ranking factors?
There is huge variety of different ranking factors. All of them you can find out here.
Several groups of Google ranking factors can be defined:
On-Site WebSpam Factors

Domain Factors

Special Algorithm Rules

Backlink Factors

Brand Signals

Social Signals

Page-Level Factors

Site-Level Factors

Off Page Webspam Factors

User Interaction
I'd like to pay attention on page level factors, social signals and brand signals as these categories are contradictory. They include such metrics as quality of backlinks, Page Rank, social networks activity.
There are a lot of argues about importance or unimportant of methods connected with that categories such as link building or promotion in social media. Someone believes that PR doesn't have much value anymore taking into account tightening Google policy according backlinks. Let's see mentioned Google ranking factors.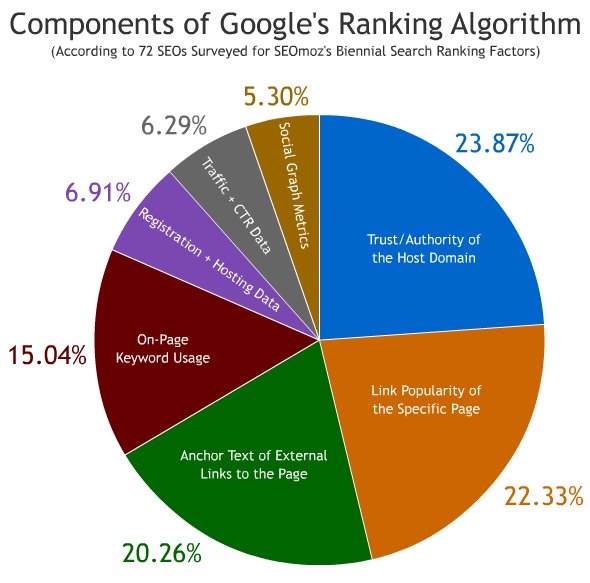 Source:Flickr
Social ranking factors
Among these are +1, likes, twitts, pins, authorship, shares, account authority.
As social networks provide no-follow links, you will not get "juicy links". Consequently, social networks are tools that aimed to brand development, brand awareness, audience approach and getting traffic.
On the one hand, according to Google policy it's important to create valuable and interesting content that willing to be shared; on the other hand, Matt Cutts states that +1, likes, twitts and pins have no influence on search ranking. Nevertheless they stay among factors of ranking. So Matt Cutts point is not be over concerned with getting likes, but if Facebook Page has a lot of likes, it will be counted. This is a little bit controversial.
Read:  Why Social Media Marketing is So Powerful
Brand ranking factors
Brand ranking factors are close to social signals since they include Facebook Page and likes, Twitter with followers, presence in Linkedin, brand name anchor text, brand mentions (even without hyperlink), brand searches and some more.
Thus, despite absence of "juicy links" in social networks, brand development and engagement with users lead to the top of search ranking anyway. In other words, when you brand becomes popular in social media, Google will notice it.
Page level ranking factors
There are a lot of page level factors such as keywords, title, keyword density, page authority, amount and quality of inbound and outbound links, page rank and some more, but I'd like to turn attention to Page Rank.
Regardless to Google guidance and this list of factors, PR is just among 199 other factors. In fact, PR shouldn't be goal of SEO strategy because there are other factors that are considered as well. Currently webmasters should understand marketing strategies and be concerned about brand development. How to turn this into SEO strategy?
SEO strategy should be targeted to getting backlinks. No-follow, do-follow, social shares and so on. The point is to get quality back link from trusted resource and it doesn't matter do-follow or no follow. By the way, quality and trust rank are among ranking factors.
Backlink performs 2 significant functions increase PR and attract traffic. Hence we come to PR.
Though PR stays crucial metric that is based on quality of backlinks and has bigger weight in ranking to compare with other signals. Originally page level ranking factors are above social and brand signals.
To sum up, what is essential for SEO? Looking through the list we can find that "everything" is taken into account for arranging from keywords and domain name to usability, grammar and Facebook fans.
The point is that a website should be quality in technical performance as well as friendly for users. Getting backlinks is #1 SEO goal as backlinks lead to increasing PR, top position in Google search, traffic and brand awareness. Therefore backlinks contribute to enhance other Google ranking factors.
You can also Join BloggersIdeas on Facebook & Google+ for more similar updates.


[ad_2]
Read More