A Simple Guide To Understand Keyword Search Volume 2022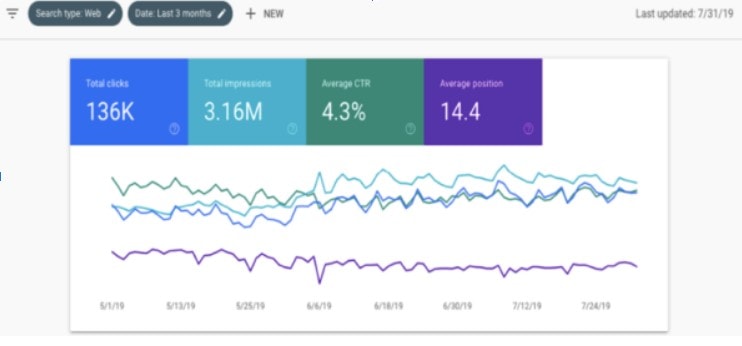 [ad_1]
Even if you're absolutely new to search engine optimization (SEO), you definitely came across the concept of keyword research.
In turn, keyword research is essentially based on two metrics that you should consider for choosing which search queries you should optimize your site for:
Keyword search volume; and

The level of competition for that particular keyword.
While most of the keyword tools are doing a more or less good job detecting how many sites rank for a given keyword (that's what's meant by the level of competition), when it comes to returning data for search volumes, they really vary.
This brief guide will walk you through the key aspects of keyword search volume: 
What it is;

Why do you need to pay attention to this metric; and

How to pick the best source of keyword search volume data.
Armed with these insights, you will be able to apply this metric to your SEO and marketing efforts—all to build a smarter and more data-driven strategy for your online success.
Keyword Search Volume: What Is It?
Keyword search volume is a metric that reflects how many times users enter a certain query in search engines within a specific period of time.
It's always best to look at this metric within a monthly timeframe (that's how most tools do) as it's closely connected with site traffic, which you typically count monthly.
Why Do You Need Keyword Search Volume Stats?
As 93% of online journeys start with a simple search, knowing which query to optimize for can be the foundation of your online strategy. 
While you can experiment with various applications of search volume data, the most popular use cases are:
To prioritize your keyword optimization as search volume stats help to highlight the so-called low-hanging keywords, or search queries that attract the highest number of searches but come with the lowest competition. 

To pinpoint seasonality in searches—for instance, if you an August traffic drop to a page dedicated to Valentine's Day gift ideas, it comes as no surprise as the highest search queries for the "Valentine's Day gift ideas" keyword come around February. But not everything is this obvious. You might never expect to see seasonality in your target keyword but it can take place and it's best to know about it—whether you are simply optimizing for the search engines or preparing a marketing campaign.
There are a few more unorthodox uses of keyword search volume data:
Some online businesses—especially e-commerce—use it to evaluate user demand.

Others even employ keyword search stats to shape their product strategy based precisely on these demand evaluations.
How to pick the best source of keyword search volume data
Now that we've covered the very basics of keyword search volumes and how to use them, it's time to unwrap where you can find these stats.
As with most things SEO and digital marketing, you have your Google tools and third-party tools. Google is typically always free while the latter charge for access to data.
It may look like a no-brainer but actually don't rush to conclude that you can get away with stats coming from Google itself.
Google-native Tools For keyword Research
This subtitle is actually not so accurate as Google doesn't actually offer any tools for keyword research per se.
With some workaround, you can, though, get hold of some data. 
When looking at solutions that provide insights into keyword stats, you'll always see Google Search Console among the recommendations. 
It is a great tool you should turn to on a regular basis, but as for keyword search volume data, it won't work.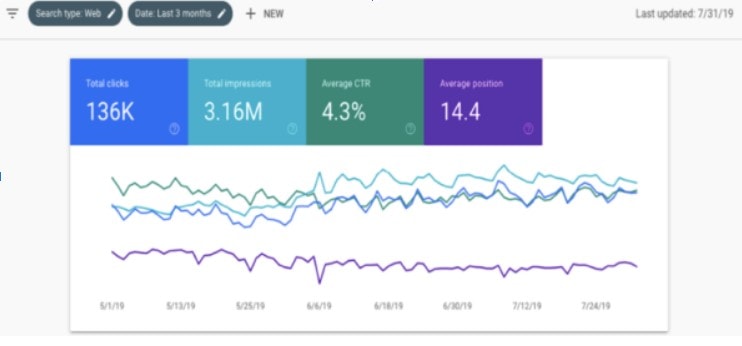 Google Search Console (source)
One thing is that Google Search Console only features keyword stats for search queries you already have covered. So you cannot see any data for keywords your site doesn't rank for, which is a problem as the key aim of keyword research is to actually discover new keywords that you should integrate into your SEO and marketing strategies. 
Then, you don't actually see any keyword search volume data there. Instead, you see impressions that only reflect how many people Googling this or that search query could have seen your link. And keeping the definition of keyword search volume in mind, you can tell that it's not the same.
Now, what about Google Keyword Planner? 
It's a tool for advertisers, which means it should come with more actionable data. And it does, only precise search volume numbers only show up when you are actually running an ad campaign.
The tool let's call it the free version—when you are just doing some preliminary research for advertising purposes but not actually yet allocating any ad budget—only returns keyword search volume ranges.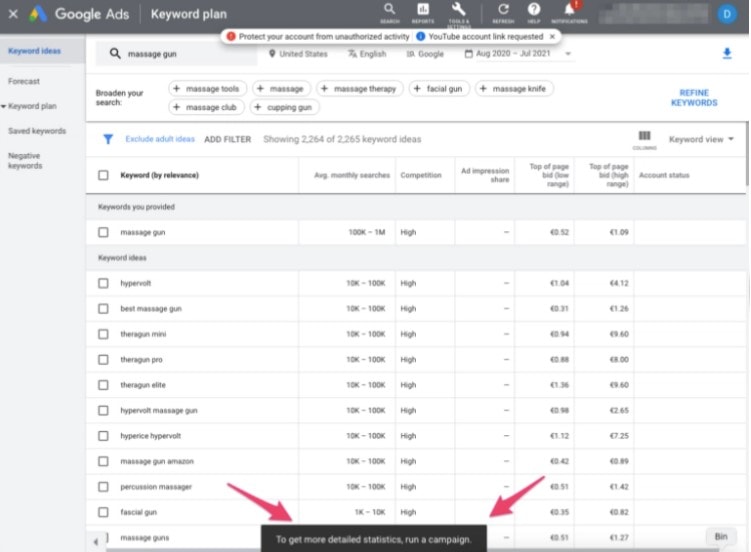 Google Keyword Planner (source)
This implies that you can only see the real search volume stats when you are ready to allocate some dollars, and that can be the most costly thing to do if you aren't just operating in an industry with a few tens of target keywords. 
Your keyword research that consists of the analysis of 100-500 search queries (the bare minimum of any business) will cost you a lot and require a lot of effort.
Which Keyword Research Tool Comes With the Most Accurate Search Volume Stats?
This study reviewed keyword search volume data in Semrush, Moz, Ahrefs, Serpstat, Sistrix, and Mangools—the leading industry tools for keyword research. 
They compared the stats from these tools against Google Search Console's impressions count. How's that accurate comparison? As this methodology reveals, in some instances, GSC impressions data can reflect search volume counts, and the study took exactly the keywords that match these instances. This methodology post elaborates on this approach.
As a cherry on top, they also looked at Google Keyword Planner's free version just to see whether even the ranges it reflects are more accurate than whatever external tools have to offer.
Now, let's look at the key discoveries that should help you understand which tool comes with the most accurate search volume data. 
Search Volume Data Accuracy
% of keywords that coincide with Google Search Console stats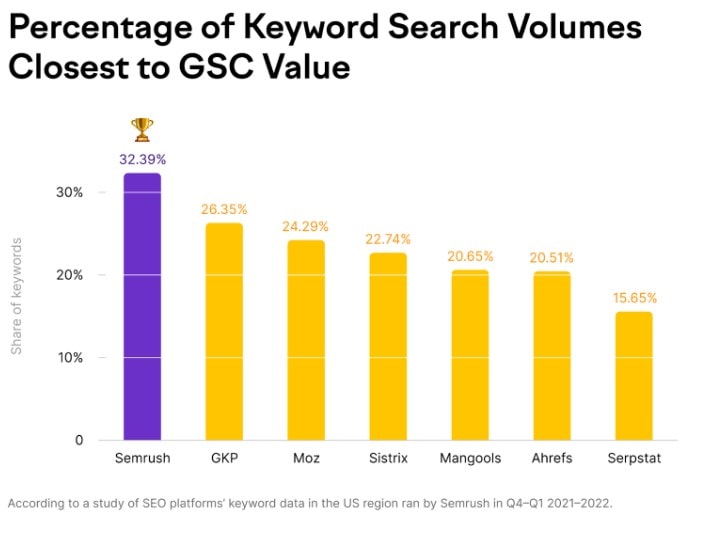 Semrush has the highest share of keywords matching GSC's impressions. This implies that accuracy-wise this is the best tool to choose for keyword research.
Keyword Data Coverage
The study didn't only focus on the pure quality factor, though. It also looked at the data coverage aspect of each tool's keyword data. 
Why? Because while a tool can have very accurate search volume stats, it might not have a wide keyword coverage, which will limit its research capabilities.
Tools typically report on this stat—especially when numbers look good. For instance, the keyword search volume data quality leader Semrush says it returns data for 98% of all US keywords, and the study looked into that, too.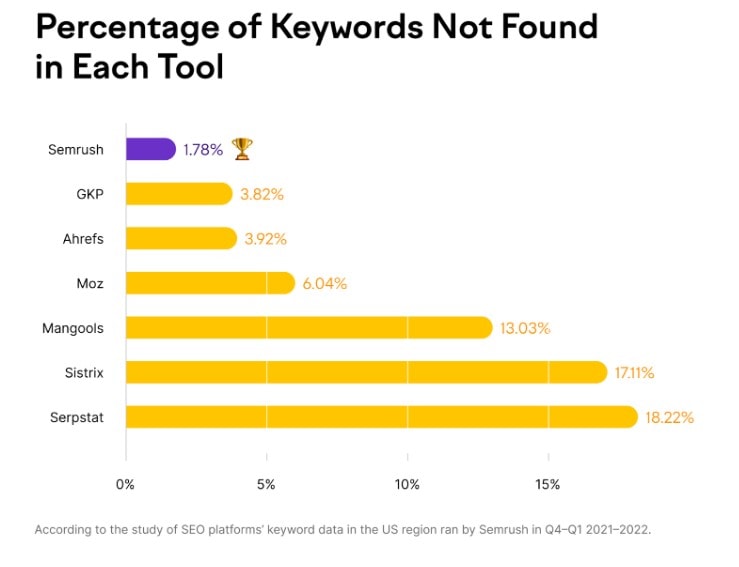 % of keywords with no returned data across each tool 
It looks like Semrush wasn't lying when reporting an almost total keyword data coverage for the US. Other tools—and even curiously Google Keyword Planner's free version—have much more missing keyword data. 
We've partnered with Semrush to give you an exclusive 30-day free trial. With this trial, you'll get access to the PRO subscription for one month and you can cancel it anytime. 
Quick Links:
Wrapping Up:
Hope you are now well-armed to enter the world of keyword research—you know all there is to know about search volumes, their use cases, and even the top tools that show the most accurate data.
So there are just a few thighs left to keep in mind when interpreting search volume stats:
Take the nature of your industry into account: if you are in a business with a large audience, keyword search volumes will always be higher. But if you're operating in something very niche, don't get put off by lower search volume counts.

Don't just consider search volumes when making your keyword decisions. The competition level is very important as keywords with high searches tend to be extremely competitive so all your optimization efforts can come to naught if large sites are already ranking high for that search query.

Use smart SEO and marketing strategies even when it comes to keyword optimization. If you have a relatively new site or don't yet have much traffic to work with, always start with low-to-medium keywords. Get some traffic, build up some site authority, and only then move on to targeting higher-volume searches. 


[ad_2]